The Wedding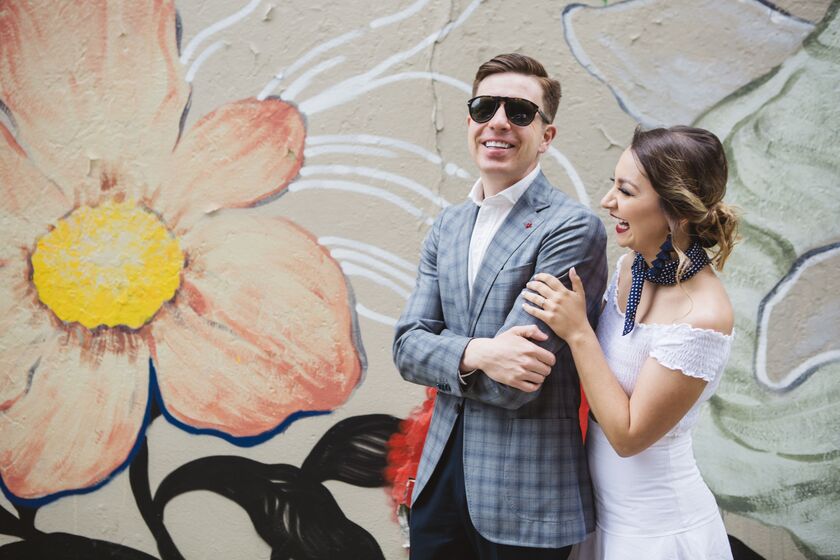 Saturday, June 1, 2019
3:30 PM
Ceremony and Reception
Water's Edge
2879 Riverside Dr E, Windsor, ON N8Y 4S7
Ceremony will start at 3:30pm, please arrive at least 10 minutes early.


Cocktails, and appetizers to immediately follow.


Reception - 5:30pm


Late Night Snack - 10:30pm
Our Story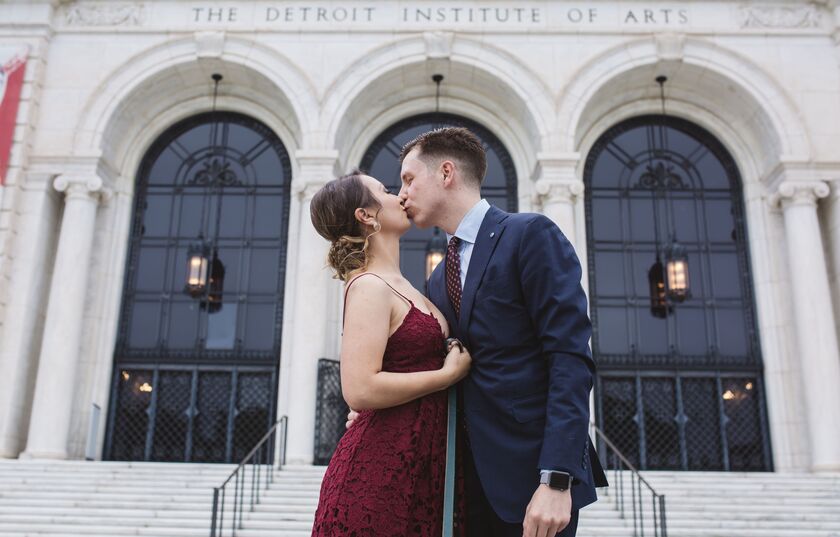 We are so excited to be sharing this special day with you! Thank you for stopping by and checking out our page. We hope that we will see all of you June 1.
As many of you are aware, Patrick & I met at work. Patrick was the new guy who scheduled "two carrots" on someone's jewelry policy, instead of "two carats." I thought he was cute, so I didn't rub it in that the poor woman had just insured some vegetables, rather than her expensive diamond ring (luckily for me, he figured out the whole "carat" versus "carrot" thing by the time he proposed to me).

Fast forward one week; as luck would have it, I had some car trouble and was staying at work late so that my mom could drive me home. It was Friday night, and after a week of hanging around afterhours chatting together (ie. flirting)... I was fed up. I wrote my number on a sticky note, threw it down on his desk, and stormed out, all the while wondering if I had made a big mistake. He sent me a text message before I was out of the parking lot.
By the next year -- September 1, 2013, officially -- we moved into our first apartment together; a nine-hundred square foot, one-bedroom spot above a flower shop. It only took us a couple of weeks before we scooped up a sweet little kitten that we named Slash, who stole our hearts at the humane society the minute we first saw him. We were a family.
It took us a few weeks to get our couch delivered (shout out to David and Scott, who graciously donated an entire evening to try to fit our first couch into a door that was about one inch too small). Closet space was limited, our kitchen had about one foot total of counter space, and we were never more than five feet away from one another at all times; we were cozy, and we couldn't have been happier.
For the next three years, Patrick was working full time and also going to law school full time. Life was hectic, but we were crazy enough to think that all that was missing was a dog. Oliver ('Ollie') Nino MacRae came bursting into our lives full of love and energy, balled up into a three-pound little package. It took an entire week to realize that if we intended on giving him the best life possible that one thing was certain: the little guy needed a backyard. Within three days, we found a realtor, took a tour, and fell in love with one home. We put an offer in on it that day, and it was accepted a few hours later. A total of three weeks went by between deciding, "hey maybe we should look at buying a house," and completely moving in. 2351 Turner Rd -- here we are.
After we moved in, Patrick finished graduated from law school magna cum laude, passed the bar, and started practicing right away. We finally had our weekends together for the first time in over three years, and we savoured every second of it.
On April 5th -- my twenty-sixth birthday, to be exact -- Patrick surprised me with a choose-your-own-adventure birthday celebration in Chicago. Two days later, April 7th came, and we road-tripped it through Michigan, Indiana, to Illinois and pulled up to our hotel -- The Londonhouse -- on the corner of Michigan Ave & Whacker. Patrick read that the Londonhouse had a gorgeous rooftop, so we decided to check it out before dinner. There was a gorgeous columned structure right at the corner overlooking the entire city. He looked at me and said, "well Andee, you have it all: the house, the dog, and now the ring, right?" I looked at him perplexed, as he got down on one knee and asked me to marry him. I had one job: to say "yes." I was so very shocked at what was happening, and I meant to say "no I can't believe this is happening." Unfortunately it just came out as a string of "no's", until I realized what I was saying, and then immediately followed by a string of "yes's!!".
Wedding Party
Hailey Ouellette - Maid of Honor
Amelia Sauve - Bridesmaid
Lauren Lawrence - Bridesmaid
Ollie MacRae - Ring Bearer
Scott Lawrence - Groomsman
Neil Sauve & Joe McParland - Officiant